Air Conditioner Unit Installation and Replacement Company
With temperatures reaching up to 110 degrees in Tarzana during peak summer months the time to replace your air conditioner may come sooner than expected no matter what brand, type, or model of air conditioning unit you need installed, our Tarzana air conditioning installation experts can change out or install from scratch a brand new system and handle the job from start to finish. Whether you need installation for a new construction, office building, or a replacement in a residential home, our team of professionals will be ready to tackle the job. All of our heating and air conditioning installers are licensed professionals with high levels of training and expertise, so we can guarantee that you'll be satisfied with any ac unit we replace or change out of your air conditioner in Tarzana. Our company maintains a strong focus on customer service, proof our customer service track record can be found online, we work to achieve 100% satisfaction.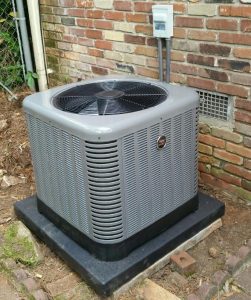 Our air conditioner installation experts can work install or replace any type of AC unit or system you may have in your home or business. We can help you decide what kind of air conditioner is best for your property. We make sure that your ac equipment in Tarzana, CA is perfectly, professionally installed by following local building codes and manufacturer requirements to ensure optimal efficiency and to  get as many years out of your new air conditioner as possible. Your air conditioning system will improve not only your home's comfort levels, but also your monthly utility costs.
Common Reasons and Air Conditioner is Changed Out:
System Leaked out all or some refrigerant
Compressor Failed, price to replace ac compressor to high better to invest in new equipment
Multiple repairs in short period of time
High Utility Bills, Need a new energy efficient air conditioner
Tarzana Air Conditioner Installation Professionals
When your air conditioning system needs any work performed on it at all, you need a professional HVAC contractor that you can trust to get the work done properly. Our professional Tarzana air conditioning replacement professionals will make sure that you receive the highest quality workmanship possible. We've perform hundreds of installations per year and we have experience with all makes and models of HVAC systems. We'll be able to make sure that your installation is done right the first time. We can remove your old unit, and we can modify your existing ductwork to fit the new unit. We'll take care of your entire job and make sure that your AC unit is ready to be used and running as efficient for years to come.
With our Tarzana air conditioning installation services, your home is guaranteed to stay as cool and comfortable as possible, and your energy costs will reduce. Your efficiency will naturally rise with a new AC unit, but we'll make sure that there are no problems with the installation that cause your efficiency to drop. Our number one priority is your complete satisfaction, so we'll make sure that there are no problems at all with our A/C replacement in your home in Tarzana.
Call US AT: (818) 888-3968