AC Repair in Canyon Country
It's that time of the year, when temperatures soar and air conditioning repair in Canyon Country becomes a top priority for homeowners and businesses. Don't wait a minute longer before calling our certified, highly trained and trusted professionals that offer 24 Hour Air Conditioner Service in Canyon Country to assist you.
Need a reputable Air Conditioning Company? We know Quality Counts, Customer Satisfaction is Guaranteed when using us. We provide cost-effective solutions to broken down air conditioners that are not blowing cold air or just simply don't turn on at all. We provide dependable air conditioning and central HVAC solutions. Maintenance, installations and upgrades and repairs. Our friendly, efficient service techs will ensure there are no issues with your air conditioner upon completion of their repair to your system, so call on us to repair your air conditioner. For only $89 you can have one of our factory trained and certified techs at your door ready to fix your broken air conditioner. Providing superior A/C service, repair and installation is our top priority. Our technicians receive continual training to stay up to date on the latest techniques and trends. We specialize in cooling system installation from RUUD, Rheem, Day & Night, Amana, Trane and Lennox, but also repair all major makes and models. Pacific Coast is the leading AC Repair contractor in Canyon Country with over 10,000 satisfied customers.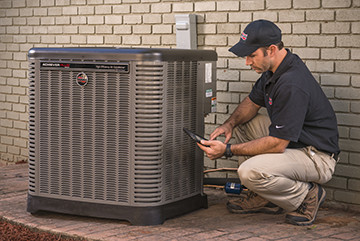 Canyon Country Air Conditioning Company
When the temperature in Canyon Country reaches the hundreds and above, the only thing keeping you between the outdoor scorching heat and humidity is your air conditioning system. We have trained AC Repair Specialists that know how to get your air conditioner to blow cold air again. Whether your home needs a new unit because the current unit is broken and beyond repair or if you're seeking a new unit in order to lower your monthly utility bills, we can help you. Perhaps you have a functioning unit and would like to make certain it stays that way- sign up for a seasonal AC Tune-up. We are locally owned and operated and have been servicing the area for over 20 years, so you know you can trust us with all of your air conditioning needs.
90% of Repairs Can be taken care of on our first Visit to your Home
Common Issues that require an AC Repair Pro
Poorly-charged air conditioning system.

 If an A/C system is not properly charged with refrigerant, it is unable to efficiently remove heat and cool your home.

The outside fan or unit is not working.

 The condenser fan located outside your home removes heat from the compressor and keeps refrigerant cool. The condenser fan can stop working due to a faulty capacitor, a bad motor bearing can cause it to overheat, or there may not be power to the system. If it does not run or is not spinning at full capacity, it can cause your compressor to prematurely fail, in some cases a new air conditioner has to be installed if the compressor is not in stock.

Insufficiently cooled rooms.

 This can be due to poor duct design, kinked or damaged air ducts, or an air duct leak.

The A/C unit is not blowing cold air.

 This can be can be a result of various issues, including the following:

Lack of power to the system
Dead thermostat batteries
A low refrigerant charge

Dirty air filters

 (Note: Dirty air filters can cause many system malfunctions. Air filters should be changed periodically- typically every 3-6 months in some cases monthly.)
Look for a Professional AC Repair Contractor
Choosing the right air conditioner service company in Canyon Country, CA will have a huge impact on how efficient and comfortable your system is going to be. When you're looking for an certified AC repair company, always make sure they offer the following services:
24 Hour AC Repair Service: The ability to respond quickly to a broken air conditioner is crucial in hot 100+ degree weather. Always use an HVAC contractor who is readily available and considers repairs an important part of their business.
AC Tune Ups: Regular Tune Ups are essential to keep your air conditioner running at peak efficiency in all weather conditions. Our techs visit your home the spring to correct small problems before the hot summer heat waves arrive. If we see any part in need of repair we will advise you of
Certification and Training: Qualified service techs are hard to find, we only employ technicians who are trained and certified. Our factory trained technicians go through on going weekly training on different brands and repair procedures to better assist you, your equipment is being repaired by a dedicated, trained professional.
Air Conditioning Repair Canyon Country
We are your local air conditioning repair and service experts in Canyon Country, CA. You can trust our team of professional air conditioning repair experts with your next service or installation. We have great deals on annual maintenance that can help protect the life of your hard working AC unit. The heat in the Canyon Country area can be brutal, so don't take your chances with whether or not your AC is running efficiently or without problems.
Air Conditioning Basics
The four main components to your air conditioner are:
Condenser: The condenser is the outside metal unit and where the gas from the compressor is condensed into a liquid. The gas entering the condenser is very hot. The temperature is then lowered, so the gas can convert back to a liquid.
Compressor: The compressor is inside the condenser. It circulates the pressurized refrigerant, to concentrate the heat, and changes the low pressure gas to high pressure.
Evaporator: The evaporator is the part of the system inside the home. In simple language, it absorbs the heat from your home.
Expansion Valve: The expansion valve controls the amount of refrigerant allowed into your Evaporator Coil ( Cooling Coil ).
All of these pieces are connected by a copper tube that handles refrigerant, creating a closed loop. Heat is collected in the evaporator, sent outside to the condenser. The heat is removed, and the cold air is recirculated back into your home.
Air Conditioning Facts
An air conditioner doesn't create cool air.
What happens in the AC process is actually the removal of heat from the air. Your AC uses a chemical called refrigerant to remove heat and transfer it outside. The refrigerant runs through the lines and coils in your unit and goes from liquid to gas and back again. During this process, the refrigerant removes the heat and transfers it elsewhere so that when the air comes out the other side, it is cool.
Your AC will remove humidity.
Lower humidity helps the overall comfort level in your home by making you feel cooler, even if the temperature is the same.
Your air filter needs to be checked and replaced every three to six months.
A dirty air filter restricts your air flow, which reduces efficiency, costing you money, and over time can put stress on your unit and could cause a costly repair.
Maintenance, maintenance and maintenance.
Your Air Conditioning system needs regular checkups to keep it running in tip-top shape. Having regular annual preventative maintenance will bring your system longer life and fewer breakdowns during hot summer days.
Installing New Air Conditioner
With major equipment such as your home comfort air conditioner, we tend to do everything possible to repair them before determining that a replacement of your cooling system is necessary. The need for a replacement usually comes after you've had your system for many years often times more than 10 years old, or when it has been used excessively and cannot be repaired any longer.
Deciding to replace your air conditioning system is a big step and, for many homeowners, a dreaded one. It can be a bit overwhelming to determine which system is the right fit for you and your family.  From budget to technology to code compliance, buying a new air conditioner isn't an easy purchase option. Many people get many estimates and much misinformation along the way.
That's why we are always ready to offer expert advice and answer whatever questions our clients in Canyon Country have about replacing their air conditioners. We'll also walk you through the steps of the replacement process and help you schedule it for a time that's most convenient for you.
Our service technicians only recommend replacing your air conditioner when you are experiencing constant repairs that no longer keep it working properly and would be a waste of your money. Our FREE in home installation estimate to replace your old Air Conditioner is a no pressure estimate.
If you need to replace your air conditioning, you can count on us to help you choose the right solution—and then install and maintain it.
How do you decide if you need an air conditioning replacement?
Time:  How long you have owned the unit? If it's only been a handful of years, you're probably better off paying for repairs. A system that's 10 years old or more probably needs replacing.
Cost: If the total estimated bill of a repair will cost reaches close to half of what a new unit would, you're probably better off investing in a new one.
Reliability: If your air conditioning unit is always breaking down or doesn't consistently keep your home cool, chances are it should be replaced.
DID YOU KNOW? If your air conditioning unit is less than five years old, it is quite likely that it's at least partially covered under its original warranty. Make sure you find out before you make any decisions! Taking advantage of the warranty—that you bought and paid for—will make repairs and possible replacement a lot easier and less expensive.
Why You Want To Work With The Best HVAC Company
Working with a reputable HVAC company is critical to protect your home comfort system. Working with a sub-par HVAC contractor can create a number of problems:
Poor installation of Heating and Air Conditioning equipment leads to equipment inefficiency. When purchasing and installing a new system, efficiency ratings are usually a huge benefit for homeowners and their utility bills – you expect your new system to offer the expected efficiency as written by your comfort specialist on paper. When installation is done by a poorly skilled contractor, your unit may not be able to operate at optimum efficiency you paid for. This increases your operating costs, and you don't benefit from the savings of a high efficiency unit.
Poor HVAC installation or repairs inhibit system performance and may reduce the life of your equipment. If your heating or cooling unit is not installed or repaired correctly, the system will not perform properly, it may cool and run fine for a few days or months until it finally breaks down leaving you wondering what could have gone wrong. Comfort throughout your household will be noticeable, and your energy bills will more than likely rise, as the unit uses more energy to overcompensate for the poorly done repair or install. Bad installations or repair jobs lead to more equipment breakdowns and stress on your central comfort system. Your unit could fail sooner than expected, leaving you with the expense of replacing a system far before needed.
Why Choose Us?
We are a family owned and operated heating and air conditioning company. We specialize in heating and air conditioning equipment replacement and repair for your home or business. We carefully measure the square footage of the area in need of air conditioning, calculate air flow, and consult with you about any special needs you may have, before making equipment replacement recommendation. We will take into consideration your time, budget, and family needs, and give you a few recommendations allowing you to decide which air conditioner brand is best for you. To top it off homeowners in Canyon Country are happy with our work, which is reflected in all of the positive reviews our company has received to date.
The Benefits Of AC Replacement Include:
Better air quality
More eco-friendly
Lower energy bills
Quiet air conditioner
Solve inconsistent air flow problems
Warranty on your new Air conditioner
Peace of mind and more.
If your system is between 10 and 20 years old and you are experiencing high utility bills or inconsistent performance, we recommend scheduling a professional evaluation of your existing system to determine if maintenance (such as ductwork repairs) or replacement is the best course of action.
Call US AT: (661) 282-2169