Air Conditioning Service in Granada Hills, CA
Our air conditioning service experts service Granada Hills 24 hours a day. Call Pacific Coast when you need an honest and reliable air conditioning service company in Granada Hills, CA. We offer 24 Hour Air conditioning repair in Granada Hills. Our air conditioner service technicians specialize in servicing and repairing all makes and models of heat pumps, ductless mini split air conditioners, zone control systems and thermostats. We are available for 24 hour emergency air conditioning and heating repair service. We offer routine tune-ups to keep your air conditioner working at peak efficiency throughout the summer.
$139 Air Conditioning Tune-up in Granada Hills, CA
Pacific Coast offers professional and thorough Air Conditioning Service tune–up's in Granada Hills. We recommend scheduling your service in the spring before you use your AC system for the first time that year. Upon scheduling your Tune-up our local Granada Hills air conditioning maintenance service technician will perform the best service your system has had by performing the following:
Clean or replace 1 inch standard air filters
Inspect primary and secondary drains
Inspect inside of the cooling coil (If Accessible)
Clean and test condensate drain
Inspect condenser coil
Clean condenser coil (minor clean)
Lubricate and inspect moving parts (where applicable)
Inspect and tighten all loose electrical connections
Monitor air conditioner operating pressures for proper refrigerant charge.
Charge refrigerant if needed
Notify you of any parts in need of repair or replacing
ENSURE UNINTERRUPTED COMFORT WITH YEARLY A/C SERVICE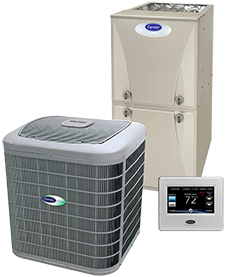 Leading-edge products and precise installation are the best way to get started.  But not everyone is in a good financial position to upgrade, and even brand new equipment can't fight off the wear and tear of months and years of operation without regular tuning.  To prevent health & safety risks, lack of efficiency, shortened service life, and most common repair issues, it is recommended to have a tune up done once a year.  We will handle all of the important tasks that are necessary to keep your Air Conditioning system in peak condition.  There's a lot less for you to think about, worry about, and while you're enjoying uninterrupted comfort, you'll save money on energy and operating costs, breathe cleaner air, and relax in confidence.  We are one of the few HVAC providers in Granada Hills, CA that provide refrigerant as part of the tune-up up to a 1/2Lb if needed.
If you experience any difficulties with your heating and air conditioning system, count on the professionals from Pacific Coast.  Our team of heating and cooling technicians are NATE-certified. Our technicians receive ongoing training, specific to installation, maintenance, and repair, and always reach first for Factory Authorized Parts.  To further protect your interests, we offer flat rate pricing as per industry averages on most repairs, we offer free installation or replacement quotes of your HVAC system whether on new large projects.
CALL US AT: (818) 888-3968