Furnace Repair in Winnetka, CA
Our Furnace Repair technicians service Winnetka 24 hours a day. Call Pacific Coast when you need an honest and reliable Furnace Repair company in Winnetka, CA. We offer 24 Hour Heating service in Winnetka, Our repair technicians specialize in servicing all makes and models of heat pumps, wall heaters and Furnaces. We are available for 24 hour emergency Heater Repair service, offering routine tune ups to keep your furnace working as efficiently as possible throughout winter.
Our licensed and experienced Heater Repair technicians are ready to fulfill all of your repair needs. Are you experiencing any of the following problems?
Furnace vents blowing out lukewarm, cool, or even cold air.
Little or no airflow from air vents.
Vents blowing out moist or humid air.
Dust and debris blowing out of vents.
Furnace and/or vents produce noise when running.
Furnace isn't turning on at all.
If you're experiencing these problems, we can help. Call us now! When you schedule an appointment with us, you can trust that the technician who shows up your door will be licensed, experienced, and professional. We always show up on time you will know the cost with our upfront pricing so that you can be sure in making the best possible decision for you and your family.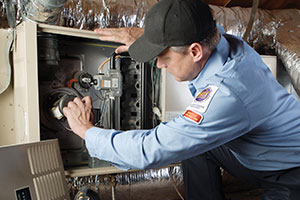 On time Furnace Repair Winnetka, CA
If you've lived in Winnetka, CA and have been through a few winter days without your furnace in your home or business you know its not a pleasant experience. When your home comfort system is in need of a Furnace Repair Service you can trust a Pacific Coast Furnace Repair technician will arrive on time, prepared ready to fix your system. Even if you are calling after office hours, we have our phone system set up to alert our 24 hour Emergency on call Heating service technicians as soon as you call. Our repair technicians are trained and certified to diagnose all of your Furnace issues. Equipped with a fully stocked vehicle 90% of all Furnace Repairs are taken care of no longer then a few hours after a Pacific Coast Furnace Repair technician arrives. With a pricing guide issued to all of our service technicians carry with them you will know what it is going to take to get your central Furnace repaired in Winnetka. Get your central heating system fixed at the price that is right for you in Winnetka Call Pacific Coast today at 818-888-3968 or complete our service request form by clicking below.
Our Heater Repair Services
At Pacific Coast, we can do more than fix your broken furnace or heater. Our skilled Repair technicians are also highly qualified and trained to offer you the following:
Regular maintenance of your furnace / Heating system, including checking and replacement of all filters.
Installation of a new furnace system when the old one can't be repaired or is no longer efficient.
Inspection of your current system to determine what repairs or replacements are necessary.
Advice regarding how to increase the energy efficiency of your home or office building, and professional opinions on which products can help lower your utility bills.
Information on how to improve the safety of your heating system and lessen your risks of accidents when working with your furnace or heater.
Why We Are Different
When your Heater stops working, we know you have your choice of companies that provide heater repair in Winnetka, CA. We've worked hard over the years to develop a system that sets us apart from the rest and we offer you the best products and services around:
Our Heater Repair technicians are guaranteed to always be on time. We know your time is valuable which is why we aim to show up at the early part of your appointment time window.
Each of our technicians drives a vehicle that is fully stocked to complete most repairs during the first stop, minimizing your inconvenience and ensuring that your heater is up and running quickly.
Guaranteed service within 24 hours of the time you speak to one of our friendly representatives.
Our certified technicians are always professional and treat you with respect.
Affordable services that don't sacrifice quality.
Emergency services 24 hours a day.
Special discounts and monthly deals for valued customers.
Each technician provides you with a detailed explanation of any services that are performed and any charge you are asked to pay.
Furnace Installation and Replacement in Winnetka, CA
Common reasons for furnace replacement include:
Increasing Furnace repair costs: Old furnaces are fixable, in some cases universal parts can be used in other original manufacturer parts are needed which is to be very costly.
Lack of reliability: You find yourself repairing it once or twice a year
Complete system failure: Your heater has completely failed or has a broken firebox due to age or improper air flow from when it was first installed.
Rising energy bills: If you're paying more for heating than you typically would in similar weather, your gas furnace's efficiency is dropping.
Uneven heating: Are certain rooms or areas of the house colder than others? These cold spots indicate uneven heating performance.
Frequent cycling: Ideally, your furnace won't need to cycle on and off often to maintain comfortable temperatures. If you notice significant cycling, you'll want to heed this warning sign.
Issues with air quality: Toward the end of its lifespan, your gas furnace may not be able to prevent humidity problems, excessive dust, and rust particles from entering the air inside your home.
While a new gas furnace requires an up-front investment, you'll find many perks when choosing a new heater. Regardless of why you're considering a furnace change out, our goal isn't to make as much money off of you as possible, but to provide you with a level of professional service that will make you a customer for life and in hope you will refer us  to friends and family which is how we have grown our business for over 20 years. If you know that your heater needs to be replaced, or you need an experienced technician's opinion as to whether repair or replacement is the best choice for you, call us we can help you.
At Pacific Coast we focus on designing our Furnace installations so that they will perform as quiet as possible and provide lasting results. We also take the necessary steps to inform our customers about the high efficiency systems that are available on the market today to meet their needs, to prevent future Furnace Repair we work with only the best brands. Our Furnace installation comfort specialists focus on energy efficiency, which means when it is time for a new Furnace we will help you find a system that uses the least amount of energy by ensuring the system is designed for your home to help lower your impact on the environment and on your utility bills. Want to know why your neighbors and friends use our company call us for a free Furnace installation quote in Winnetka. If you suspect that your heating and air conditioning system may be beyond repair, consider purchasing a new unit from us. We're happy to help you select the right one. Give us a call at (818) 888-3968 to request a quote or discuss a new unit!
CALL US AT: (818) 888-3968