Furnace Repair in Granada Hills, CA
Our Furnace Repair technicians service Granada Hills 24 hours a day. Call Pacific Coast when you need an honest and reliable Furnace Repair. We offer 24 Hour Heating service in Granada Hills, Our repair technicians specialize in servicing all makes and models of heat pumps, wall heaters and Furnaces. We are available for 24 hour emergency Heater Repair service, offering routine tune ups to keep your furnace working as efficiently as possible throughout winter.
You May find a solution to your broken heater or learn something new about your heating system below. Small things like an air filter or simple professional maintenance may be the solution to fixing your broken heater.
Our licensed and experienced Heater Repair technicians are ready to fulfill all of your repair needs. Are you experiencing any of the following problems?
Furnace vents blowing out lukewarm, cool, or even cold air.
Your furnace is on, but your house is not reaching the temperature you set on your thermostat.
Your furnace keeps starting and stopping and without heating up to the temperature
Little or no airflow from air vents.
Vents blowing out moist or humid air.
Dust and debris blowing out of vents.
Furnace and/or vents produce noise when running.
Furnace isn't turning on at all.
If you're experiencing these problems, we can help. Call us now at (818) 888-3968. If you want to avoid having your furnace repaired during the cold winter months you may want to call us to perform a maintenance check up in the early fall to ensure that everything is working order before the weather gets cold. Doing maintenance on your system can prevent major repairs from happening. When you schedule an appointment with us, you can trust that the technician who shows up your door will be licensed, experienced, and professional. We always show up on time you will know the cost with our upfront pricing so that you can be sure in making the best possible decision for you and your family.
What Are Common Problems With a Furnace?
Thermostat malfunction. An older thermostat can wear out or be damaged, which limits your control of the heating system, say you set your thermostat to 72 degrees some older worn out thermostats can go over your set temperature or below sometimes by up to 5 degrees+/-. Upgrading to a programmable thermostat will solve this problem and also enable you to cut heating costs.
Mechanical problems. The blower motor or bearings in a typical furnace are all wear and tear items. When these parts become worn, they must be replaced to avoid air flow problems or total system shutdown.
Ignition problems. Most of today's furnaces have electronic ignition, so that the burner only turns on when the thermostat calls for heat. A clogged burner nozzle or a faulty ignition will prevent the burner from working correctly.
Cracked heat exchanger. This furnace component separates the combustion process from the indoor air supply. With age, a heat exchanger can crack, which causes safety and performance problems.
Improper venting. Any furnace that burns fuel be it gas or propane requires an air supply for the combustion process, and a venting system to expel combustion gases. Your furnace technician will check for proper ventilation during regular service calls.
Outdated, inefficient performance. Today's high-efficiency, sealed combustion furnaces can operate at 90% efficiency or better. Older furnaces may only reach 75% or 80% efficiency, even in perfect conditions. Upgrading to an efficient, ENERGY STAR® furnace is a smart option in many cases.
Leaky, uninsulated ductwork. Although ducts aren't part of the furnace, their condition has a huge impact on overall heating of your home or business. By sealing and insulating the ductwork system, you can improve system efficiency by 15-20% or more.
Our Heater Repair Services
When winter settles in Granada Hills, nights can get really cold! Our Heater Repair experts can offer reliable and cost effective heating solutions, whether you need a new central heater installed or having your heater repaired, we take pride in offering each client a customized solution. Not every central heating system is the same.
At Pacific Coast, we can do more than fix your broken furnace or heater. Our skilled Repair technicians are also highly qualified and trained to offer you the following:
Regular maintenance of your furnace / Heating system, including checking and replacement of all filters.
Installation of a new furnace system when the old one can't be repaired or is no longer efficient.
Inspection of your current system to determine what repairs or replacements are necessary.
Advice regarding how to increase the energy efficiency of your home or office building, and professional opinions on which products can help lower your utility bills.
Information on how to improve the safety of your heating system and lessen your risks of accidents when working with your furnace or heater.
Why We Are Different
When your Heater stops working, we know you have your choice of companies that provide heater repair in Granada Hills, CA. We've worked hard over the years to develop a system that sets us apart from the rest and we offer you the best products and services around:
Our Heater Repair technicians are guaranteed to always be on time. We know your time is valuable which is why we aim to show up at the early part of your appointment time window.
Each of our technicians drives a vehicle that is fully stocked to complete most repairs during the first stop, minimizing your inconvenience and ensuring that your heater is up and running quickly.
Guaranteed service within 24 hours of the time you speak to one of our friendly representatives.
Our certified technicians are always professional and treat you with respect.
Affordable services that don't sacrifice quality.
Emergency services 24 hours a day.
Special discounts and monthly deals for valued customers.
Each technician provides you with a detailed explanation of any services that are performed and any charge you are asked to pay.
Sometimes, the major cause of delay for furnace repair is a technician that arrives without the right tools and parts. You will never experience such delays with our company!
Our technicians will go to your home with all the necessary equipment so that nothing gets in the way of your timely, efficient repair or replacement service. Our vehicles are warehouses on wheels, we stock all the right parts to save you time and money.
Heater Tune-Up Granada Hills
You have just returned from work, it is very hot outside, you enter your house and the first thing you do is switch on the Heater and in a short time your home is cool. You forget all about the Heater and immerse yourself in your household activities. When the heater was installed, the technician had told you that regular maintenance was necessary but you have forgotten all about it and one fine day when you find that the heater is not working, you remember his words and feel that you should have acted on his advice. Most people are like that only; they remember sane advice only in adversity. They forget all about it when everything is fine.
Winters are quite beautiful in Granada Hills, but they can also be quite uncomfortably cold. You need to know that your furnace will be there for you whenever you need it so that you can make it through winter comfortably. Your Heating system is perhaps the hardest working, and most essential part of your home. It performs every single day, may it be your trying to cool your home or heat it up your furnace has a blower motor inside it that works for your heat and cool. So, it shouldn't come as a surprise that it needs to be taken care of. We recommend a simple annual tune-up on your heating system to check for worn parts, diagnose the performance, and make minor adjustments. Annual tune-ups keep your system operating at peak efficiency. This saves you money on your utility bills throughout the year, and helps prevent catastrophic break downs when you least expect them. With something as simple as a Heater Tune-Up performed by our service professionals, this is no problem we can help reduce the possibilities of your heater leaving you when you most need it.
We will work with you every step of the way to ensure that you get a consistent, reliable and effective performance from your heating system. From heating installation and replacement to routine heater maintenance and unexpected heating repairs, our local heating technicians do it all. When it comes to heating system service in Granada Hills, CA, there is no time to waste.
Annual maintenance and tune-ups of your heating system are important to the upkeep, Safety and efficiency of your equipment. Over 75% of all repairs can be prevented with proper maintenance.
Are you feeling dissatisfied with the airflow of your furnace? Are your energy bills piling higher without any explanation? Have multiple repairs become a costly? If any of these apply to you, we've got the solution.
The fix for all your HVAC headaches is regularly scheduled tune-ups. When Tune-ups are scheduled you can expect that we'll always show up on time. We strive to not only offer you the best in-home installations and repairs, but also work with your existing equipment, and keep it at its best. Avoid costly energy bills, or worse, by taking care of your home's central heating equipment.
Furnaces offer so much comfort to our families. They always seem to be there when we need to adjust our surrounding and find just the right balance for our homes. It's important not to take their utility and efficiency for granted, and show your systems a little care.
Benefits of a Tune-Up Include:
Increased System Reliability
Reduced Repairs and System Failures
Improved Comfort and Air Flow
Optimal Energy Efficiency
Affordable Utility Bills
During a tune-up minor repairs can be made, preventing expensive heater replacement needs in the future. Scheduled maintenance will guarantee your Heater will run safely while at optimum efficiency. Dirty filters and components cause your Heating system to work HARDER and OVER HEAT. Raising utility bills and costing you more money.
Our service technicians will perform a check up of your Furnace which takes approximately 60-90 minutes for our technicians to perform. The Heater tune-up involves checking that all components are functioning properly and cleaning of the Heating system.
| | |
| --- | --- |
|  Clean or replace 1″ filters as needed | Tighten all electrical connections |
|  Check for proper thermostat function | Inspect safety devices and Gas Valve for proper operation |
| Monitor volts/amps on Blower motor | Inspect electrical for exposed wiring |
| Inspect blower motor for bearing wear | Check for Carbon Monoxide |
| Take amperage reading on blower motor | Heat Exchanger camera inspection |
| Test blower motor capacitor | Check for gas leakage |
| Check blower motor bearings | Measure temperature difference-supply/return |
| Check blower for proper speed | Inspect duct work for energy loss |
| Inspect blower / Return air flow | Measure and adjust gas pressure to manufacturer specifications |
| Vacuum blower compartment | Test ignition system for proper operation |
At Pacific Coast, we offer every service necessary to save you money, increase your energy efficiency, and help reduce your carbon footprint. It truly is possible to enjoy the comfort of your heating system year round, and still be an Earth-conscious and green consumer.
Air Duct Repair and Replacement
Air duct repairs are needed from time to time from natural wear and tear of daily use. Our friendly team members conduct visual inspections as well duct system sealing tests to find the problem or problems. Once the issue has been discovered, appropriate repairs to the air ducts are recommended. We take pride in our work; air ducts are thoroughly inspected and meticulously repaired to ensure your heating system is once again running at top quality, without wasting energy or increasing your utility bill.
Duct replacement is usually needed for those looking to upgrade their heating system, or if the need arises due to the old or asbestos ducts being poorly installed or damaged. With Pacific Coast Heating and Air, duct replacement is conducted by an experienced expert. The new air ducts will be properly installed for ultimate efficiency. Our professionals utilize state of the art equipment and tools along with premium ductwork products to give our clients the best duct replacement service with the least amount of air leaks.
Thermostat Installation
Your thermostat is by far the single part of your heating equipment with which you have the most direct interaction. It is with your thermostat that you control your heating and cooling system, adjusting temperatures as desired. It is also your thermostat which you rely to regulate the performance of your  system, cycling that equipment on and off in order to maintain the temperature that you've set in your home. In order to succeed in doing so, you must use the thermostat most suited to your needs in your home.
Not only must you choose your thermostat carefully so that you can use it with the convenience and satisfaction that you deserve, but you must also know that the component itself is doing its part. That is why you must hire a professional to install and test your thermostat. Only then can you be sure that your thermostat is functioning precisely as it ought to and that its calibration is correct.
Different Types of Thermostats:
Wireless Thermostats
Smart Thermostats (Wi-Fi Enabled)
Digital Thermostats
Furnace Installation and Replacement Granada Hills
Not every furnace can be repaired. There are times when an older furnace is beyond repair or may simply cost more to repair than to replace. In such cases, your technician may recommend that you have your furnace replaced. Sometimes a new furnace is the most cost-effective and energy-efficient way to go. We will always be honest with you about a possible furnace replacement. We value our time and your money––we don't want to perform repairs or service on a furnace that is in need of replacement.
Your technician can discuss with you your heating needs and recommend a new furnace that can best meet your home requirements and your budget. Most residents in Granada Hills look for " The best furnace" to be installed in their home. Instead of focusing more on which company to use to install their new heater. A big number of repairs needed within the first few years of a furnace installation are due to poor installation.
Common reasons for furnace replacement include:
Increasing Furnace repair costs: Old furnaces are fixable, in some cases universal parts can be used in other original manufacturer parts are needed which is to be very costly.
Lack of reliability: You find yourself repairing it once or twice a year
Complete system failure: Your heater has completely failed or has a broken firebox due to age or improper air flow from when it was first installed.
Rising energy bills: If you're paying more for heating than you typically would in similar weather, your gas furnace's efficiency is dropping.
Uneven heating: Are certain rooms or areas of the house colder than others? These cold spots indicate uneven heating performance.
Frequent cycling: Ideally, your furnace won't need to cycle on and off often to maintain comfortable temperatures. If you notice significant cycling, you'll want to heed this warning sign.
Issues with air quality: Toward the end of its lifespan, your gas furnace may not be able to prevent humidity problems, excessive dust, and rust particles from entering the air inside your home.
If you do need a furnace replacement, we know how overwhelming it can be. Here are some of the frequently asked questions about furnaces that we get from some of our local residents:
What Are The Different Types Of Furnaces?
Single Stage: A single-stage furnace has only one stage of operation. It can either be turned on or turned off.
Two Stage: A two-stage furnace has two settings––full and half speed. This is a more efficient way to heat and provides for better comfort, because it can move the air at a slower pace.
Variable Stage or Modulating: A variable-stage or modulating furnace modulates the speed and heat output based on the temperature outside and the desired comfort level. This furnace only works as much as you need it, making this type the most energy-efficient type of furnace.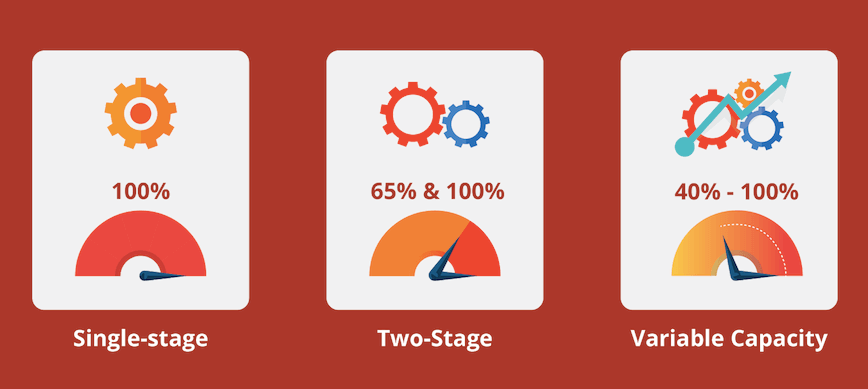 While a new gas furnace requires an up-front investment, you'll find many perks when choosing a new heater. Regardless of why you're considering a furnace change out, our goal isn't to make as much money off of you as possible, but to provide you with a level of professional service that will make you a customer for life and in hope you will refer us  to friends and family which is how we have grown our business for over 20 years. If you know that your heater needs to be replaced, or you need an experienced technician's opinion as to whether repair or replacement is the best choice for you, call us we can help you.
At Pacific Coast we focus on designing our Furnace installations so that they will perform as quiet as possible and provide lasting results. We also take the necessary steps to inform our customers about the high efficiency systems that are available on the market today to meet their needs, to prevent future Furnace Repair we work with only the best brands. Our Furnace installation comfort specialists focus on energy efficiency, which means when it is time for a new Furnace we will help you find a system that uses the least amount of energy by ensuring the system is designed for your home to help lower your impact on the environment and on your utility bills. Want to know why your neighbors and friends use our company call us for a free Furnace installation quote in Granada Hills. If you suspect that your heating system may be beyond repair, consider purchasing a new unit from us. We're happy to help you select the right one. Give us a call at (818) 888-3968 to request a quote or discuss a new unit!
CALL US AT: (818) 888-3968